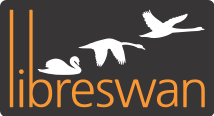 Libreswan is the new IPsec software forked from openswan 2.6.38 after a year long dispute regarding control and ownership of the name openswan.
This is where all the swan development now takes place, clearly visible when checking the git commit logs as graphed by github:

You can also look at the CHANGES file or check the github repository
NOTE: Please do not use comments here to ask for help on libreswan. Please use the swan@lists.libreswanorg mailing list. Thanks!